Traditional Amaretti Biscuits Recipe
HOW TO MAKE SICILIAN AMARETTI BISCUITS BY ITALIAN COOKAWAY CHEF SARA DANESIN.
One of my favourite things is a mid-morning coffee break with these delicious little amaretti biscuits on the side. They are also perfect when you want something sweet after a meal. They are a delicacy to be savoured; soft on the inside and coated liberally with icing sugar.
The term Amaretti derives from the word 'amaro' meaning bitter, which comes from the almonds called Armelline. My traditional recipe for these amaretti biscuits comes from the beautiful island of Sicily. The bitter almonds are optional but if you can get hold of them do, it will really make a difference. Bitter almonds are the essence of a true Sicilian amaretti biscuit.
Once you have made these Amaretti they will keep for around five days in an air-tight container. I think they make a lovely present, especially for Christmas. I put them in a little bag tied with ribbon and often give them as gifts.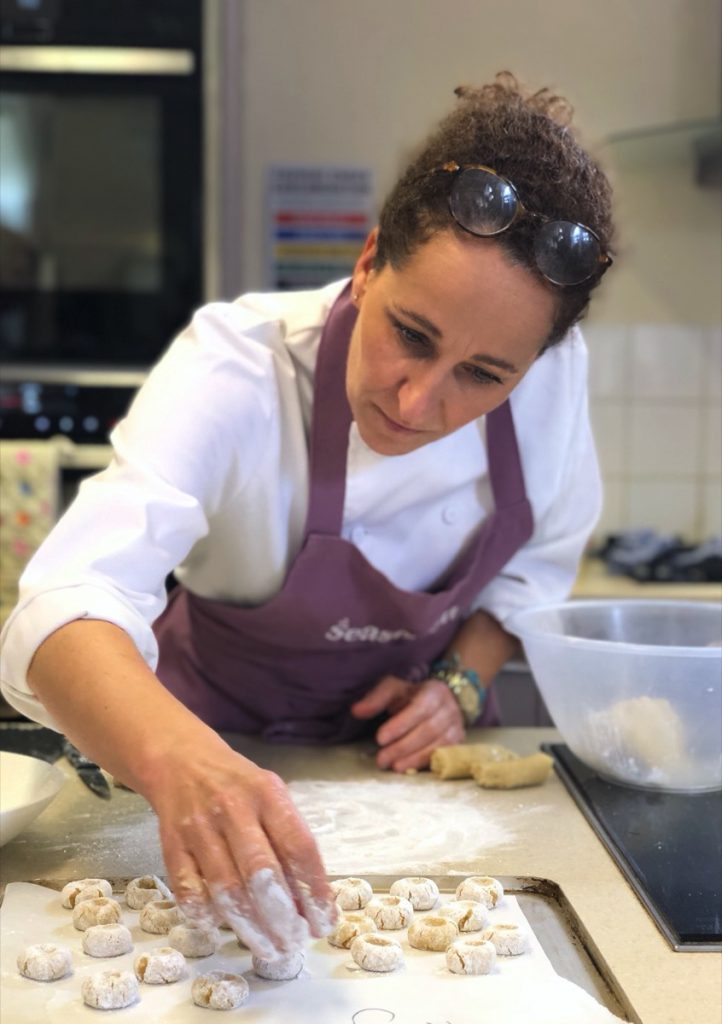 Amaretti Siciliani are super easy to make, so do have a go and enjoy something delicious, authentic and a bit different with your morning coffee.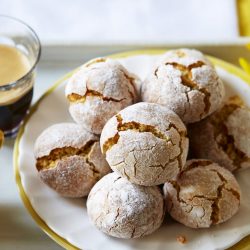 AMARETTI SICILIANI
This traditional Sicilian biscuits by Sara Danesin are easy to make and perfect to acompany your morning coffee. They also happen to be gluten-free!
Ingredients
120

g

ground almonds

90

g

caster sugar

10

g

ground bitter almonds

optional

10

g

honey

1/2

an

egg white

adjust as necessary

icing sugar for dusting
Instructions
Preheat the oven to 160°C (fan assisted).

In a large bowl add the ground almonds, sugar, bitter almonds and honey and mix well with a wooden spoon.

Add the egg white to a workable consistency. You might not need all the egg white so add gradually to achieve a not too floppy consistency.

Place the dough on a cool surface and roll to create small spheres. Coat with icing sugar, making sure they are meticulously well-covered, then place the almond spheres on a baking tray lined with baking parchment or a silicone sheet.

Press your index finger onto each biscuit to give it a slightly flatter shape, then bake for 10-12 minutes, or until lightly golden.

Do not touch the biscuits until completely cool. Store in an air-tight container and eat within 3-4 days.
I'll be going Live on Instagram on 17th December at 5:30pm with Cookaway team member Hannah and together we'll be demonstrating how to make these delicious biscuits. Tune in for hints and tips and to ask me your questions.
I hope to see you there!
Sara
(Visited 4,542 times, 3 visits today)