Everyone's heard of tapas, those small dishes you eat on cobbled Spanish side streets with a glass of vino tinto. However, not everyone knows about tapas' tasty cousin, the 'pintxos'.
WHAT ARE PINTXOS?
Originally from San Sebastian, a coastal city in the Basque Country, 'pintxos' pintxo' (pronounced 'pincho' in English) are typically small pieces of bread, topped with local Spanish ingredients that are assembled and held together with a small skewer.
From chopped-up pieces of Spanish tortilla topped with manchego cheese and green olives, to thinly sliced chorizo with sliced Padron peppers, or croquettes with fresh goats' cheese and tomatoes there are endless possible combinations for pintxos. Get the ingredients right and enjoy a taste explosion, perfect for serving as party nibbles, or a light snack.
They are usually served buffet-style on the counter of bars and are common, not only in San Sebastian but across northern Spain. The idea for the pintxo came about because bars wanted to give their customers a taste of larger dishes. Keeping the ingredients together with cocktail sticks and displaying them along the bar made it easy for customers to eat and pick and choose what they wanted to try.
Where are they served?
Since bars started serving them in the 1930s, the concept of what a pintxo is and how they are served has expanded. Traditionally you can pick your own to go with your drink of choice, but these days at some bars you have to ask over the counter. Some establishments have also removed key components like bread or the cocktail stick. Whilst most pintxos are premade before service, there are some bars in San Sebastian which have designed pintxos tasting menus where the mini dishes are cooked to order. The dish has also become synonymous with gourmet Basque cuisine, with many top Michelin-starred chefs across the region breaking new boundaries and using lesser-known or un-traditional ingredients to bring a modern twist to the dish.
Cooking Pintxos
Spanish Cookaway Chef, Claire Hutchings is a big fan of pintxos and loves creating new mini flavour explosions to serve to family and friends, like her Aubergine Rolls with Mojo Sauce from our Spanish Tapas Feasting Box.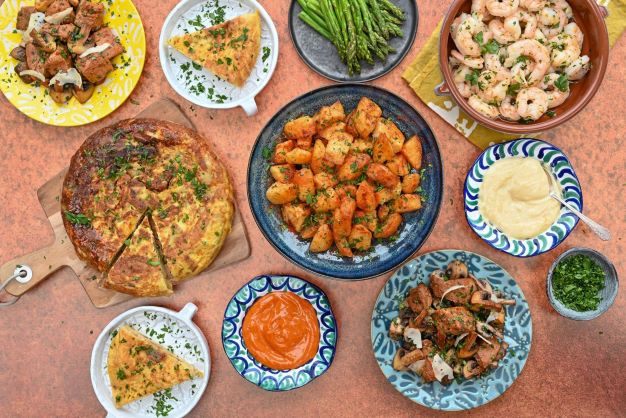 Making pintxos are a great way to get excited about food, find new inspiration, and try new or unusual ingredients you might not normally use. Claire's served us her Chorizo, Manchego, Olive & Garlicky Mushroom Pintxos recently and they were so good we had to share the recipe. Give them a go!
Chorizo, Manchego, Olive & Garlicky Mushroom Pintxos
Ingredients
200g chestnut mushrooms
2 tbsp cooking olive oil
1 clove of garlic
10g parsley
Salt to taste
Black pepper to taste
100g nonspicy Spanish chorizo (thinly sliced or in medium pieces)
60g manchego cheese cut into 1cm square cubes
60g green olives
Method
Start by slicing the mushrooms in half, peel and finely chop the garlic and parsley. Heat a large frying pan and add the oil, when hot add the mushrooms and toss in the pan until golden, add in the garlic, pepper & salt and cook for a further 1 minute, toss in the parsley to finish.
Assemble the skewers however you prefer, but we suggest adding one mushroom to the skewer, then a folded slice of chorizo, another mushroom followed by a cube of manchego cheese, and an olive at the end. Repeat with the remaining skewers.
Expand your Spanish recipe repertoire with our amazing Tapas Feasting Box created by Claire Hutchings to bring the flavours of Spanish Holidays to your Kitchen.