In 2021, Diwali will be celebrated on 4th November. Across the globe, millions of people will adorn their homes in beautiful oil lamps (or diyas) in celebration.
Diwali is an important festival celebrated by Hindus, Sikhs and Jains. "The Festival of Lights" is a five-day festival that celebrates new beginnings and the victory of light over darkness. In fact, the festival is celebrated every year on a moonless night.
History of Diwali
India's biggest festival originates from fascinating history dating back 2,500 years. Legend has it, residents of the kingdom of Ayodhya were delighted at the return of Prince Rama and his wife, Sita, following fourteen long years of exile.
Prince Rama was the human embodiment of Hindu God, Vishnu. But Prince Rama was banished from Ayodhya by King Ravana and his wife, Sita, was tragically kidnapped.
King Ravana was a terrifying, ten-headed demon King. He came to power through underhand tactics, subsequently stealing the right to the thrown from his own half-brother. But despite being exiled, Prince Rama was able to courageously rescue Sita.
After that, Prince Rama was able to return to the kingdom. On a moonless night, the pair were welcomed back by Ayodhya's township by laying out thousands of glowing oil lamps, symbolising their victory.
Over one billion people across the world will celebrate Diwali 2021 with lights, food, and spending time with friends and family.
Celebrating Diwali with Food
Diwali takes place at the end of the Kharif (summer) cropping season. Many believe Diwali began as a Harvest festival, where farmers celebrate their harvests and express their gratitude for the crops received.
Great news for fans of puddings and desserts because Diwali isn't complete without some delightful delicacies! Indian Cookaway Chef Nidhi's favourite is Srikhand. A creamy, nutty dessert which is commonplace of Gujarati & Marathi cuisine and often enjoyed in celebrations, such as Diwali.
If you're a fan of Indian cuisine and enjoy flavours such as cardamom, then definitely try this at home. You'll find the recipe on Nidhi's website, Meri Rasoi. For the ultimate flavour sensation, pair with a warming cup of Masala Chai.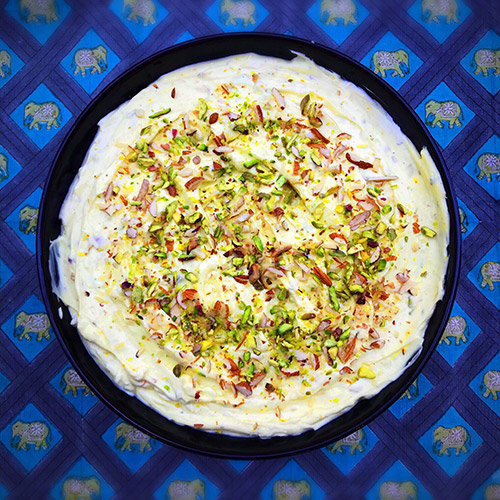 new indian menus
Here at The Cookaway we believe great food is worth sharing. Nidhi has been working hard to get get her new menus live in time for Diwali – thank you to everyone who has ordered a box!
There are three new mouth-watering menus for you to try. Or if you'd like to learn some hints and tips then join our Classic Goan Flavours Live Cookalong. We'll be cooking on Thursday 18th November 2021 at 6:00 pm and would love to see you there! Order your box by 4:00 pm Monday 15th November 2021.
Wishing you and your family happiness, prosperity and joy this Diwali.
The Cookaway Team