By May Simpkin, Healthy Cookaway Chef & Nutritionist.
And then, just like that – January is here. That notorious month where so many of us pledge to eat healthier following some indulgence over the festive period. It can be difficult to get going, so here's our top three healthy foods to set off on the right track.
1. Chicken
The first of our top three healthy foods is chicken.
Chicken is one of the most popular types of meat. Why? Not only because it's low in saturated fat and high in protein, but it also contains essential vitamins and minerals such as B6, B12, iron, zinc and copper.
What's more, swapping processed meats like sausages and bacon for a leaner meat like chicken can benefit your health journey. Chicken provides a valuable source of protein that'll help you feel full. It'll also support muscle growth and repair if you're taking up exercise this New Year and beyond.
Not only that, chicken is also great for your hair and nails, tissue repair and even oxygenating your blood!
Whilst chicken has many health benefits, there are some caveats. Processed, fried and breaded chicken tend to be higher in unhealthy fats and additives, so it's important to choose the right chicken for your health goals.
Love chicken? Try Healthy Cookaway Chef May Simpkin's mouth-watering Soy & Ginger chicken with Soba Noodles Vegetable Stir Fry.
2. Legumes
Our top three healthy foods wouldn't be complete without this food group. Legumes include foods like peas, beans, lentils and chickpeas. Typically low in fat and high in potassium and magnesium, legumes are a great source of plant based protein. And, of course, they make a healthy substitute for meat. Anyone embarking on Veganuary or anyone wanting to reduce their meat consumption – this section is for you!
Not only that, they're also an incredibly nutritious food group, offering a rich source of healthy fibre as well as an array of vitamins and minerals. Eating legumes can help reduce the risk of heart disease and diabetes by managing blood sugar and blood pressure. Antioxidants in legumes are a big factor in supporting your gut health and can even help fight the signs of ageing!
Typically, legumes provide a lower-calorie and healthy alternative – so for anyone considering losing a pound or two after some Christmas indulgence, swapping meat for foods like lentils, beans and chickpeas can be helpful, as part of a balanced diet.
Ready to try legumes? You'll love our easy to make and super-healthy, vegan Baked Chickpea Falafels with Roasted Cauliflower Buckwheat Salad with Tangy Tahini Dip
3. Fish
Fish is widely considered to be one of the healthiest foods you can eat. Not only is it a first class protein, but it also contains high levels of omega-3 fatty acids (especially oily fish, like mackerel), which are beneficial for heart health. Furthermore, it is one of the few food sources of vitamin D.
As well as keeping our bones, teeth and muscles healthy, vitamin D is also known as "The Sunshine Vitamin" which is essential for regulating our immune systems, regulating mood and helping to fight depression and anxiety.
Sea Bream is widely considered to be one of the best-tasting fish and can be paired with lots of different flavours. If you're not too familiar with cooking fish at home – don't worry. Our Almond Crusted Sea Bream with Coconut Spinach and Mushroom is a great place to start. Within half an hour you'll have a delicious and nutritious meal that'll give you a good source of healthy oils and vitamin E.
If you're looking to include more oily fish, ideally you should be eating this weekly, why not try this delicious Zesty Chimichuri Mackerel.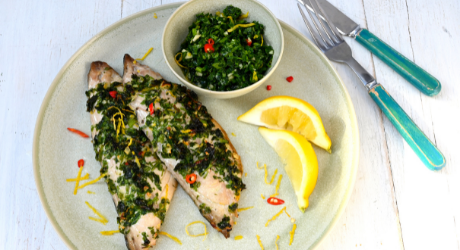 What are your top go-to healthy foods for a healthy start to 2022? Leave a comment and let us know.