Try a steak meal kit or a celebratory dinner, or expand your cooking skills - with help from our pro chefs
Not only is the sourcing of our meat important to us, but our pro chefs including multiple Masterchef winners help you get the most out of this premium ingredient, with cooking tips and technique advice.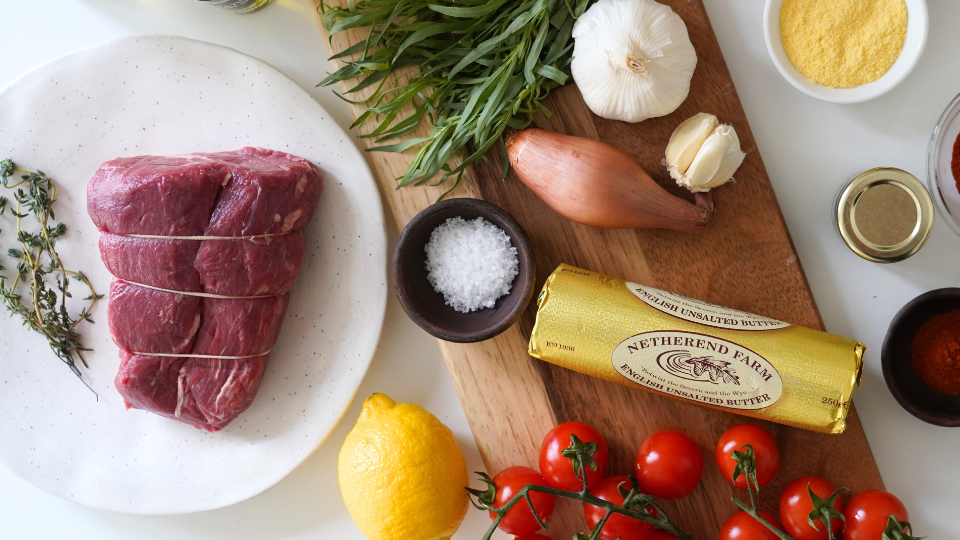 Looking for the wow factor? Try our British Beef Wellington menu and we'll provide you with everything you need.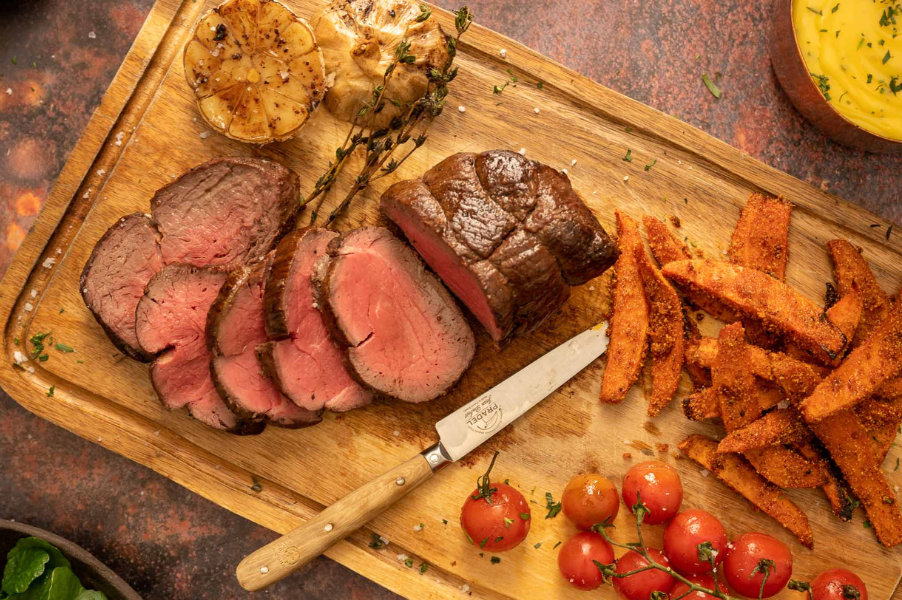 Or elevate your next BBQ with our Picanha — ideal for grilling, and the smoky chargrilled aromas will be irresistible.
Enjoy a cooking experience like no other — all you need to do is choose your favourite menu
Whether you're putting on an impressive meal for date night, or celebrating good news, steak is always a winning menu. Choose our British beef Wellington if you really want to push your cooking skills and create a show-stopping centrepiece. Or if you're having more of a casual weekend get-together, try something a little more hands-off like our Aged Rib-Eye Experience. You'll still be able to bring an impressively charred and succulent steak to the table, but we'll have taken care of most of the boring sourcing, prep, butchery, and the less-fun aspects of cooking for you. Get that pan nice and hot, and let the steak do the talking.
A generous steak meal in a box, delivered to your doorstep
Whichever steak menu you choose, it'll come delivered to your home on the day of your choosing, with everything you need lovingly packaged. Our cooking experiences contain hard-to-source ingredients, and we've taken care of the prep work for you. This means you can focus on using your senses to check your steak for the desired level of doneness, or just pour a glass of red to enjoy alongside your steak.

One of the best bits about steak is the sides and the sauces. Our meal kits come with all of the accompaniments to make your steak really sing. Be it a silky Bearnaise sauce, crispy smashed potatoes for the side, or a rich and warming whisky peppercorn sauce, our sides and sauces are carefully chosen to complement your chosen cut of beef.
Our pro chefs help you cook your steak confidently, to that perfect level of doneness
Steak is a premium ingredient, and cooking it to perfection is something we've all struggled with at times. Our cook at home steak boxes come with helpful technique advice and tips for cooking from our pro chefs, meaning you can be confident the end result will blow you away.

Whether it's Peter Meechan's venison loin, topped with skirlie crumb for the very best of Scotland's larder, or Masterchef's Jack Lucas' homage to the ultimate steak cut - the chateaubriand with Bearnaise sauce, our kits come with handy recipe cards and instructions so your finished dish will be social media worthy.
Browse all our steak boxes and find your newest favourite Cookaway today